---
As we observe Mental Health Awareness Month, May 2022, we invited artists to share "The World Through My Eyes". In this way, we hope to shine a light on the experience that many face with Mental Health Challenges and raise awareness in our communities that Mental Health Matters.
---
This Year's Winners
Adult Participants Winner
Cracked Up 2
By Wyatt
More often than not I exist in a solemn, closed world of private torment many days at a time. Thoughts of fear and chronic sadness ignite severe depression often not controlled by suppressants.
This canvased art illustrates the release of trapped bad energy before a balance of endorphins.
---
Youth Participants Winner
UNTITLED
by Esther H. Kim
This piece is about school bullying and a kid under a helmet hiding from reality. As you may see the stickers and drawings on the helmet is all the hurt the child received but the the leaf is a symbol of hope. The solution to this problem are the two bright lights behind and reflected in the helmet signifying there is an exit or a way out of this situation.
Honorable Mentions
Untitled
by Chloe Thorborn
The environment around me is shaped by my battles with intrusive thoughts, body dysmorphia, anorexia nervosa, depression, and anxiety. Because of this, I wanted to represent in my artwork how my mental health falsifies things by claiming to love me and desire what is best for me when it is secretly trying to rip me apart. The pleasant façade that my mind tries to build for me as my diseases strive to lure me further into their darkness is symbolized by the hand that is sprouting a flower out of its palm. Finally, to illustrate how my mental health is trying to rob me of my life and color, I used grey tones with undertones of purple to resemble the flesh of something dead for the monster behind the girl
---
Untitled
by Yoonjeong Yang
The Covid-19 pandemic has presented us with numerous challenges. To some extent, we have experienced negative psychological effects, such as post-traumatic stress symptoms, frustration, boredom, and anger. As an international student, I was frustrated by repeated quarantines and from not being able to return home. The pandemic, on the other hand, has allowed me to see the world beyond my comfort zone of people's pain and suffering. Through this painting, I wanted to portray doctors and nurses around the world who have been suffering from staff burnout and the prolonged stress of dealing with the pandemic, as well as their great sacrifices to help battle the pandemic.
---
Untitled
by Heejae Helen Kim
Many students of all kinds are overwhelmed with stress and pressure from academics. The massive build up of stress can lead to a dangerous point where they need to exert all of their energy into holding onto the burden that is keeping up grades or dealing with low grades as they watch things begin to fall apart. This piece visualizes academic pressure and how many students experience and feel stress from it.
---
End of World
by Monali Harshe
It is End of world as in depression, or reflection in water seen as exact opposite .That is beginning of the new world. With sun rise or sun set. As experienced in bipolar disorder two opposite frames of mind.
---
Blazing
by Kay Hwang
An angry and frustrated person has her emotions shut down by others. All she needs is someone to listen to her feelings and sympathize with her without judging. Fostering a culture of empathy is especially critical at challenging times like today as we live through a pandemic.
---
Untitled
by Crystal R. Hines
This is a digitally enhanced self-portrait image created by two combined photographs. Inspired by triptych art.

This photo art is a result of my internalized feelings. I used to battle alone anxiety and depression untreated for long periods of time. I tried to be strong and functional because I didn't want to be judged or stamped with a negative stigma. However, I finally reached a point where I could not keep my mental issues hidden inside anymore and had to seek help.
---
Untitled
by Audrey E. Song
When I was little, I had a fish tank in my house with a beautiful school of fish gracefully and peacefully dancing around the tank. I would watch the fish in the tank in awe of their beauty and fluidity. I imagined myself as the goldfish in a jar in this drawing. It's isolated and all alone, feeling sad and distanced from others. Growing up, I moved numerous times to different schools in different states for my parents' job relocation. In total, I attended five different elementary schools. The fish in the jar is a projection of myself feeling isolated and excluded from people in new schools with established friend groups, as depicted in the fish tank of colorful and happy fish frolicking with each other. The jar is an invisible barrier representing the unseen built-up social anxiety that binds many other teenagers and me from the rest of the world. I want to bring awareness to the ongoing mental struggle both the young and old suffer from day-to-day.
---
Untitled
by Zeno Park
My artwork illustrates the desire of children of all ages to utilize their imagination to escape reality by daydreaming and yearning. The mind is arguably the best coping mechanism on the planet. My artwork is designed to be understood differently by each viewer since their chosen world can be a getaway from current events like COVID-19 or even more personal difficulties like mental health. As a result, the boy represents individuals who discover a means to establish their own utopian world, whereas his built world represents escapism.
---
Untitled
by Andrea Wood
My artwork represents the feeling of loneliness, when you suffer from depression or anxiety. In my artwork the colorful and bright butterflies represent everyone else around someone who feels alone. The one shaded butterfly represents someone who feels alone, and like no one understands.
---
He Who Holds The Magic
by Claudia Branm
It is a 24′ x 20 ' oil painting finished during this present year of 2022. In this painting, I painted my daughter during a dark night that is lighted up by fireflies. Her eyes are focused on Jesus. He is with her making this night magical for her and making her glow in beautiful colors. I painted this painting because I was losing the pace of my mind during the pandemic. I was afraid for my kids and for the uncertainty of the future. Everything seemed so dark for everyone in this world, and I needed to find myself again. I learned to focus on God and not on my negative thoughts. Through my eyes, His light was the answer to this darkness. While painting this painting I got back my peace of mind. My thoughts became joyful again. I want to share this painting with the world to tell people that even during the darkest times God is with us and that we can focus on the beauty He brings to us to recover the pace of our minds and souls.
2022 Entries
We were very impressed with the amount of talent that we witnessed this year! It was difficult to narrow down our winners. We think that every artist contributed something special towards raising awareness, so we would also like to share these entries we received.
Breaking Free
by Rebekah Hong
Untitled
by Meyah Jackson
Untitled
by Hyunseo Ryu
---
Untitled
by Nadia
Untitled
by Heejae Helen Kim
Untitled
by Angelica C. Gary
---
Puppet of Emotion
by Ariana Saez
Untitled
by Olivia Lee
Untitled
by Kerrigan Reyes
---
The Ghettoman
by Laura Mofu
Untitled
by Yogita Gupta
Untitled
by Lauren Velayo
---
Untitled
by Kimberly Obame
Mind Chatter
by Hugh Baxley
Untitled
by Lindsey Ahn
---
Fragments of Our Past
by Isabella Kim
Battling the Beast
by Charley Adams
Untitled
by Valerie Chamberlain
---
Untitled
by Mark Lovich
Untitled
Mike Zapata
Untitled
by Lauren Marchese
---
Untitled
by Marie-Claire Perez Hammerschlag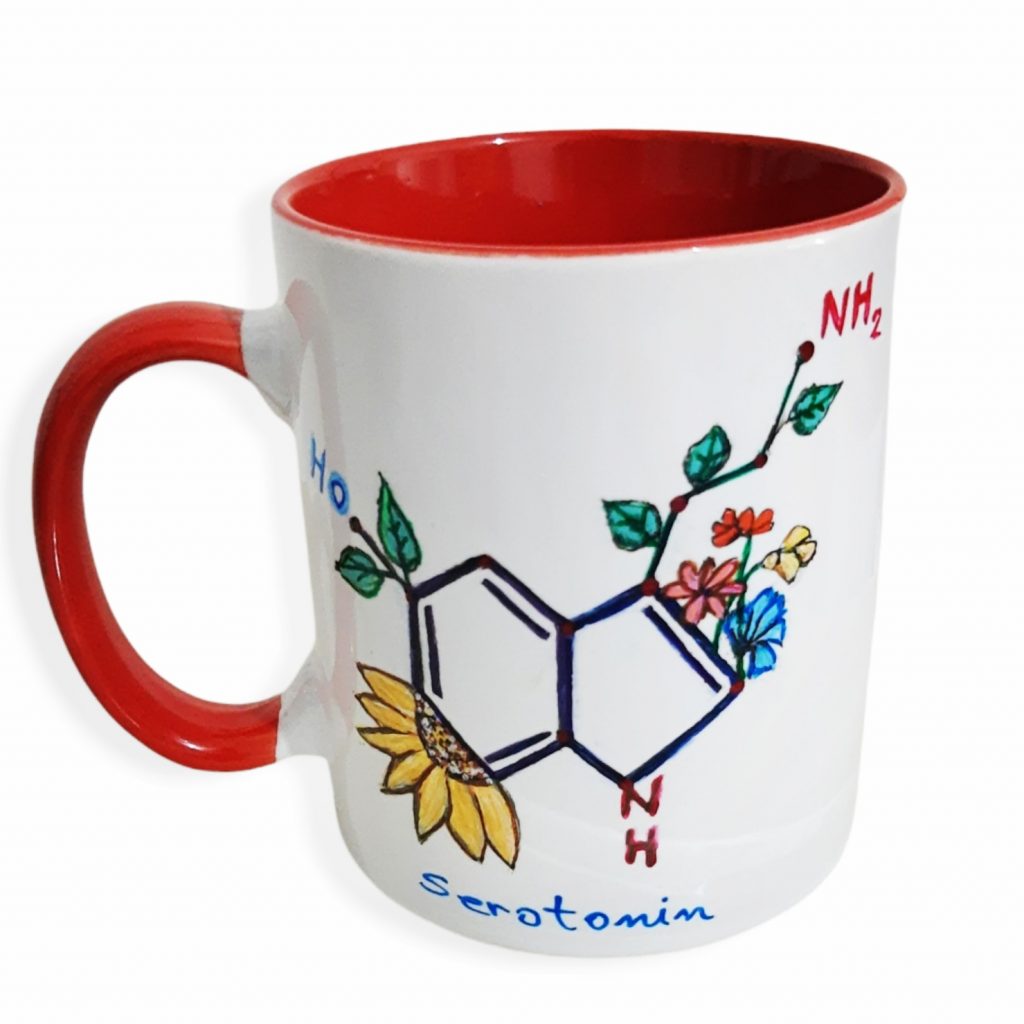 Serotonin
by Fjollë Ramadani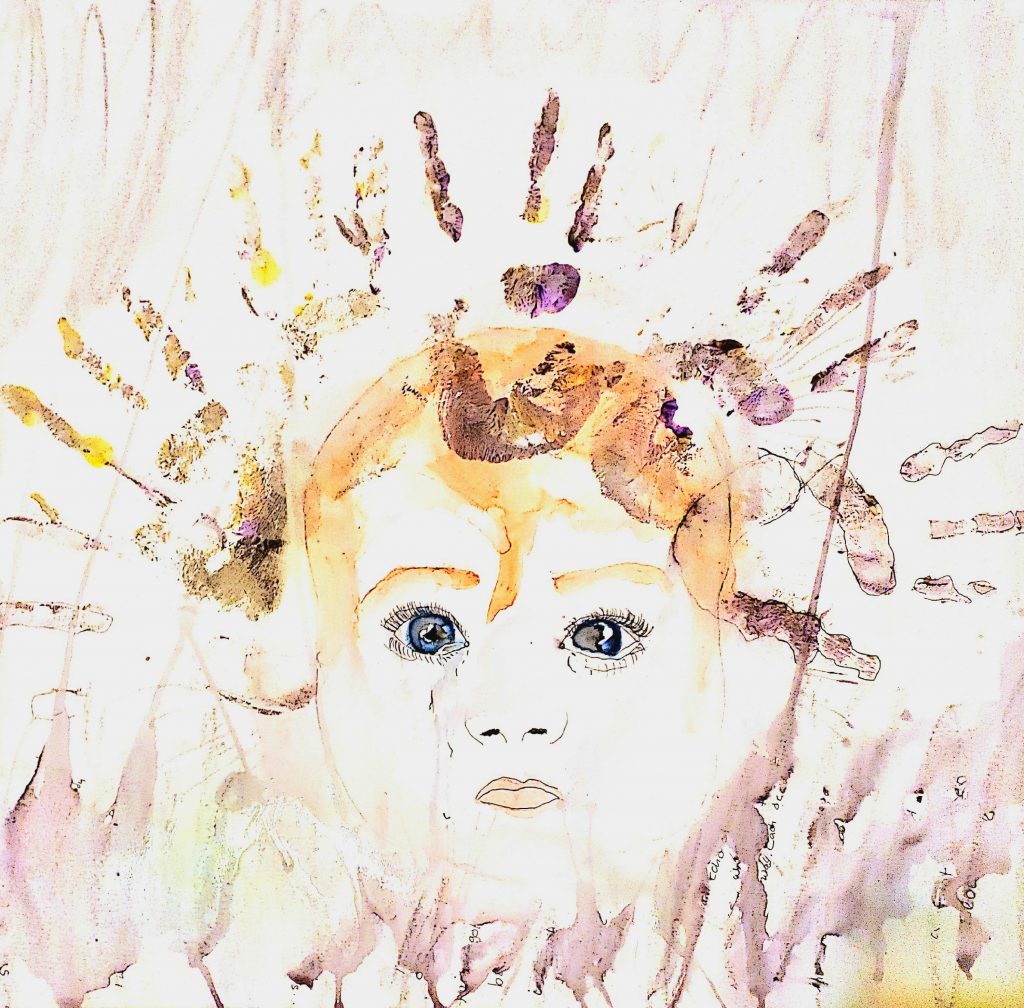 Mature For My Age
by Barbara Kimball
---
Untitled
by Zinya Meier
Re-Birth
by Marcello
Untitled
by Celeste Musani
---
Untitled
by Adriana Flores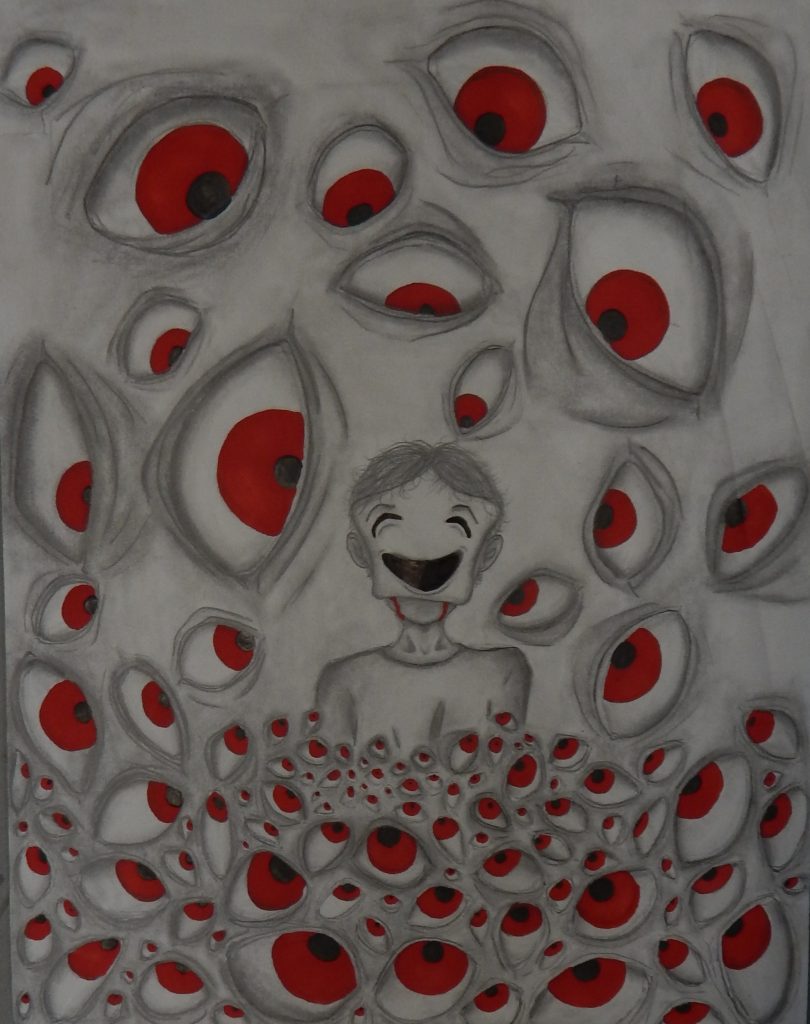 Untitled
by Hannah Parker
Untitled
by Adriana Flores
---
Unfortunate
by Jem
Untitled
by Rachel Aristeo
Untitled
by V Mythili
---
Untitled
by Gabriella Taylor
Untitled
by R.sayali Ashley Queen
Trichotillomania
by Chloe Henkel
---
Untitled
by Marie-Claire Perez Hammerschlag
Untitled
by Zitela Mwale