We are currently accepting applications for Veteran Peer Volunteers for our Fiscal Year 2024, which runs from September 1, 2023 through August 31, 2024.
PEER VOLUNTEER: Most of our volunteers are "PEER VOLUNTEERS", which is the most effective way to help veterans as a volunteer for MVPN. Peer Volunteers simply listen and respond to veterans in a way that is understanding of military and veteran culture, and the support is trauma-informed. It's much like talking with a friend (while following peer ethics), and being part of a veteran's support system. It is not counseling and it is not considered professional mental health services.
REQUIREMENTS FOR PEER VOLUNTEERS:
INTERPERSONAL SKILLS
*In a nutshell, Peer Volunteers need to be at a point in their own healing journey that allows them to be able to be able to pour into others using good communication skills, with enough self-awareness to be able to help others. Our "lived experience" and a desire to help others improve their mental wellness is a key component in this process.
No degree required: The most important experience we're looking for in Peer Volunteers is communication, self-awareness, and the ability to connect with others in a calm, understanding way. These interpersonal skills and the ability to get along well with others are critical skills needed.
Our Peer Volunteers provide support to other veterans and family members through one-on-one peer support (either via phone or in person) or by facilitating support groups. We offer training and guidance to our Peer Volunteers, and this role does not have to take place at Walker House.
Peer support can occur anywhere. In fact, we would LOVE to get peer volunteers for non-traditional types of groups like online gaming (must be familiar with Discord), fishing groups, gardeining groups, chicken groups, yoga groups etc.
We're a mental health program, but not mental health professionals, and peer support hugely important in the healing process. We have several areas we're focusing on for fiscal year 2024, and everyone plays a role in reaching our goals.
Our areas of focus include: Providing Peer Support, promoting ACCESS TO CARE for professional mental health referrals, providing community education, serving specialty Veteran populations, expanding our volunteer opportunities, and improving awareness & marketing efforts.
PARTICIPATION: The first step to volunteering is coming to Walker House to participate and get to know the program, while we get to know you. Check us out and see if this might be a good fit for how you want to contribute to the Veteran community.
VOLUNTEER APPLICATION: Once the application is received, we will schedule a time to meet with you and discuss how you'd like to serve with our program. Here is the link to the volunteer application: https://www.texomacc.org/volunteer-internships/2136-2/
BACKGROUND CHECK: At the time of our initial meeting, you will sign some routine paperwork. We also need a copy of your drivers license or state ID.
MILITARY CULTLURAL COMPETENCY TRAINING: You will be required to attend one of our MCC training sessions in person. This usually is a 2.5 hour class that gives you a basic introduction and overview to the program and challenges that veterans face.
SPECIALTY TRAINING: Depending on what team you will be on for MVPN, you may be required to undergo specialized training for the position. Examples are food handler's license training, TDCJ training, Veterans Court Mentor training, etc.
VOLUNTEER ORIENTATION: Volunteer orientation is in-person. Please check our calendar to see upcoming orientation dates.
AS+K SUICIDE PREVENTION TRAINING: This is a 2.5 hour class that equips you with the knowledge needed to identify when someone is having suicidal ideology and what actions to take. This is a required class for all Peer Volunteers.
MENTAL HEALTH FIRST AID (MHFA) & CALM (COUNSELING ON LETHAL MEANS): MHFA and CALM trainings help further prepare you to help Veterans in crisis. These are required for Team Coordinators, but no for all Peer Volunteers.
PEER VOLUNTEER MEETINGS: These meetings occur the 3rd Tuesday of each month from 1:15 pm – 2:30 pm at Walker House. We learn about resources, upcoming needs, and we also have brief training on topics that need to be addressed.
COMMITMENT: Most of our Peer Volunteers spend between 40 – 125 hours per month volunteering for us. They do not get paid or reimbursed for gas. -And almost half of our most active volunteers don't even live in Grayson County. Several of them don't even live in Texoma or Texas!!! Plus, they work really hard for us on holidays and some weekends. Some of our Peer Volunteers have jobs that allow them the flexibility to volunteer as part of their job. Some Peer Volunteers are retired. Some of our Peer Volunteers take PTO from their job to volunteer with us, while others volunteer in their off hours.
They don't do it for the t-shirt (although our Volunteer t-shirts really are awesome). They don't do it for the annual Volunteer Appreciation event (although we did take a cruise this year!).
WHY do our devote so much to our program for free…with absolutely no compensation?
–Because the rewards and sense of community they develop along the way are amazing. The work they're doing is fulfilling beyond anything that money can buy. BUT it takes a while to work up to that level of dedication and realization that you are being fulfulled yourself. The first few months are basically just getting to know the program and starting to get involved.
One thing that you'll see happen by being so involved is that you start moving forward even more in your own healing journey. We see our volunteers experience improved family relationships, improved communication skills, and an overall better sense of mental well-being.
Once you're familiar with the program, you'll become part of a team (or more than one team) that serves in a way that is a good fit for you. Our teams are:
Veterans Court Mentor Team (current need is for Fannin County only)
Special Events Team Working with other teams to help coordinate special events such as Thanksgiving, Christmas, 4th of July, Community Open House, etc.
Special Projects Team: This usually requires creating seasonal crafts, goody bags, etc.
Sponsorship Team: Schedules our sponsors, keeps the military discount list updated, makes sure we fulfill our end of the sponsorship.
JIV Team: Provides peer support and serves as a resource for Veterans who are incarcerated or otherwise involved with law enforcement. This requires making visits to county, state and federal jails as needed. Specialized training is required, and additional background checks.
Training Coordination Team: Works with organizations, businesses and the community to schedule suicide prevention and mental health classes.
Veterans Champion Team: Connects with our local faith-based community to establish relationships, helps with outreach at community events,
Kitchen Crew Team: Prepares large amounts of food, serves our Veterans and maintains a clean, organized kitchen environment. Requires a food handler's license (we can connect you with this if you don't already have it)
House Host Team: Coordinates the schedule for Peer Volunteers who "host" the house each day.
Community Resource Team: Helps with warm hand-offs for SMVF, attends community meetings to connect with resources,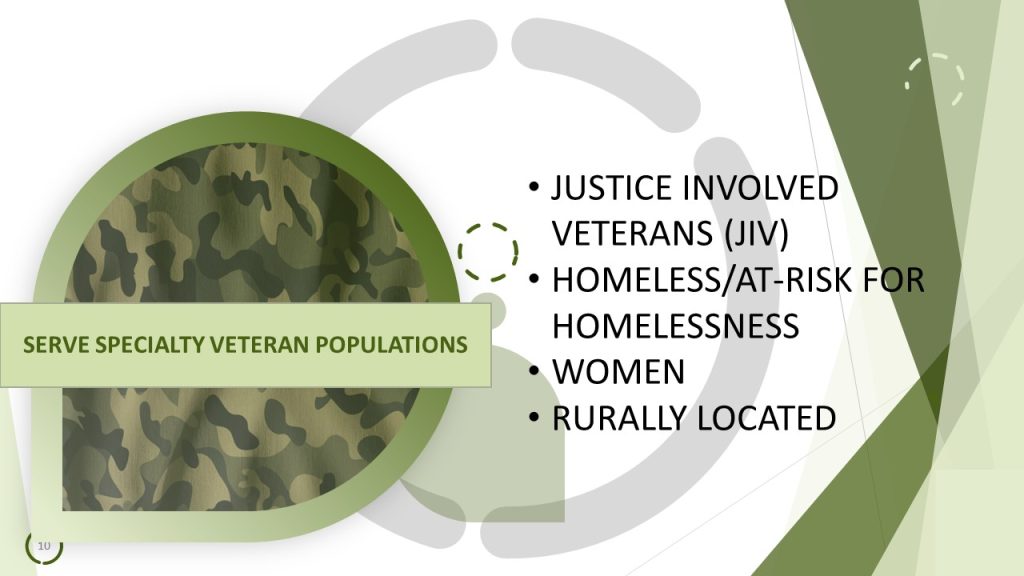 SPECIALTY AREAS
We also have speciality areas that our Peer Volunteers may have a passion for helping with. These areas involve veterans who have a specific type of situation that requires more specialized knowledge, skills and training. For FY '24, the areas we need additional help with are Justice Involved Veterans, Veterans who are homeless, and rurallylocated in Fannin and Cooke Counties.
ADDITIONAL SPECIALTY TRAINING: If you would like to be a Peer Volunteer for Veterans in a specific type of situation, we will arrange for additional training. Some training is online, but be prepared to attend in-person training as well. Group Facilitators need to attend training to learn about our facilitation guide and rules, peer eithics that apply to all of our groups. Below is a description of each of our specialty areas:
Justice Involved Veterans:
It is not uncommon for veterans experiencing challenges with mental health to have encounters with law enforcement. Some encounters result in criminal charges that relate to alcohol or substance abuse, due to "self-medicating". Our goal in working with Justice Involved Veterans is to help connect them with mental health resources, along with other resources such as filing for VA benefits, help to connect them with housing options, etc. that may help improve their situation.
We need Peer Volunteers who want to work directly with veterans who are involved in the justice system. We make jail visits to visit with veterans who are incarcerated in local county jails, state jails and federal prisons. We need peer volunteers who can go into the jails and meet with veterans as we get referrals from law enforcement agencies. As needed, we can help coordinate resources and a plan for re-entry. Additionally, we can work with probation officers as a resource to help prevent veterans from re-offending.
We also work closely with the North Texas Regional Veterans Court as "mentors" providing peer support for the veterans who participate in the program in Fannin & Grayson Counties. The purpose of the program is to give Veterans a second chance after they've been arrested for a DUI or similar type of charge that involves self-medicating due to issues that are related to their time in service. It is a treatment program. Acceptance into the program is not guaranteed.
Requirements for being a Mentor are to have regular contact with your mentee(s) to develop a relationship of trust and help, attend ongoing training for mentors, attend court once per month with your mentee, and sign off on paperwork.
Veterans Who Are Homeless or At-Risk for Homelessness:
Veterans experience homelessness for many reasons. Sometimes it's a simple as their rent got increased to an unaffordable amount, or loss of an income caused the situation. Also, sometimes the underlying reasons for their situation are very complex, and simply connecting them with a roof over their head does not fully address the problem. While there are many resources available to help veterans with housing insecurity, not all veterans know how to access the resources, or they may need a lot of extra help with accessing housing.
Helping veterans who are homeless can be a lot of tough work, and the ability to piece together resources. Not all veterans are eligible for housing assitance through the VA, or other programs. Housing is not a one-size-fits-all approach, and being a Peer Volunteer in this area requires a lot of empathy and patience. It is definitely NOT an ideal role for everyone. However, the rewards are priceless.
This particular area requires a Peer Volunteer who is passionate about resources, and willing to do some extra legwork for Veterans who have a lot of barriers. If you like a good challenge and if you enjoy problem solving, then working with Veterans in this area may be the right fit for you!
FEMALE VETERANS:
We have art groups and activities for female veterans at Walker House. Help is needed with setting up and cleaning up the activities. We also celebrate Women Veterans Day once a year. We come together to bond and share our experiences to support each other.
No matter what your talent, skills or interests, we probably have something for you at the Military Veteran Peer Network – Texoma Community Center.